Whenever I ask my Muslim friend his opinion about the myriad human rights abuses encouraged by the evil shariah law in Iran, his default position is always: "I don't know much about that"
Perhaps this (from the Guardian's excellent IRANBLOG INSIDE THE CRISIS) will help him and other wilfully ignorant Muslims to crystallise their views about the realities of life in a Muslim theocracy.
The latest blogpost tells the story of Shahin Najafi, a rapper who was foolhardy enough to criticise the immams and has

recently released a song with references to Ali al-Hadi al-Naqi, the tenth of the 12 Shia Muslim Imams, a religious figure highly respected by millions in

Iran

.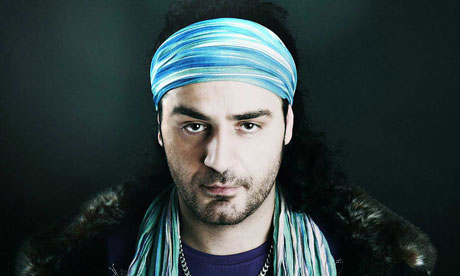 The Germany-based rapper has now been sentenced to death for apostasy.
When asked for a religious ruling on the fate of Najafi and his "blasphemous music", clerics unanimously declared that such a person must be considered an apostate.
According to the semi-official Mehr news agency, Ayatollah Naser Makareme Shirazi, a pro-Iranian regime cleric based in the holy city of Qom with a great deal of influence among Muslims in the country, was the latest person to issue a fatwa in regards to Najafi.
"Any outrage against the infallible imams ... and obvious insult against them would make a Muslim an apostate," he said. [...]
Meanwhile, an Iranian religion website which runs on the regime-controlled .ir domain, Shia-Online.ir, has offered a $100,000 (£62,000) reward for anyone who kills Najafi.
"A (website) founder who lives in one of the Gulf Arab states has promised to pay the ($100,000) bounty on behalf of Shia-Online.ir to the killer of this abusive singer," the site said.