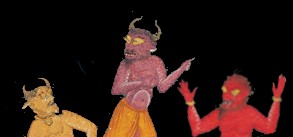 There are many things that Muslims are obliged to believe that defy common sense and contradict scientific knowledge. The problem arises from having to take the Qur'an as the literal, uncreated word of God. Thus when Christians read of Old Testament prophets living to hundreds of years old and fathering children in their dotage, of a man being swallowed by a fish and living in its belly for three days, or of Adam and Eve... they can take such stories as allegories if they wish, whereas Muslims MUST take every word as true if Mohammad happened to include it in the Revelation.
One of the more bizarre of these beliefs is that sprites or spirits called Jinns exist. It doesn't take a great leap of imagination to see where stories of evil desert spirits playing havoc with the Bedouin's possessions may have originated. Anyone who has spent any time in the desert will be familiar with the mini twisters that seem to erupt for no reason. If you have never witnessed one, please play the video... And yet many Muslims seem to delight in the stories of these super-natural creatures. Some have created whole websites devoted to explaining their origins and powers .
These creatures, according to Islamic belief as written in the Qur'an and reliable hadith, have the following characteristics:
i. Allah created them from a special smokeless fire (And the jinns did He create from a smokeless flame of fire.

(55:16)
ii. They will go to Hell in the same was as men, if they are bad or fail to believe in Allah (And surely, We have created many of the jinns and mankind for Hell. They have hearts wherewith they understand not, they have eyes wherewith they see not, and they have ears wherewith they hear not (the truth). They are like cattle, nay even more astray; those! They are the heedless ones) 7:179. This verse is also interesting in that it tells us that the merciful Allah creates people (and jinn) specifically to go to Hell where presumably Allah will delight in burning the skins off their back for eternity...
iii. The jinn were created for no purpose other than to worship Allah - just like humans... (
And I (Allâh) created not the jinns and humans except they should worship Me (Alone)
.) 51:56
iv. Some of the jinn are Muslims and some are unbelievers (
And of us some are Muslims
(who have submitted to Allâh, after listening to this Qur'ân), and of us some are Al-Qâsitûn (disbelievers those who have deviated from the Right Path)'. And whosoever has embraced Islâm (i.e. has become a Muslim by submitting to Allâh), then such have sought the Right Path.") 72:14
Note that in the above ayat the jinn are quoted directly. That is because surah 72 (Al -jinn) is devoted to a description of what a small group of jinn said to Muhammad
Say (O Muhammad
: "It has been revealed to me that a group (from three to ten in number) of jinns listened (to this Qur'ân). They said: 'Verily! We have heard a wonderful Recital (this Qur'ân)!
From this surah we also learn that the jinn bizarrely deny God ever had a wife or kids:
And exalted be the Majesty of our Lord, He has taken neither a wife, nor a son 72:3 So the jinn also seem to share the misapprehension that the Christians believe God married Mary to sire Jesus...
Presumably the jinn quoted in the Qur'an a) heard a pre-publication copy of the book they themselves appear in b) were all Muslim jinn and not the unbeliever sort.
So Muslims are asked to believe that the pagan Bedouin belief in evil sprites that obviously originated in the desert dwellers' fear of the strange noises and phenomena of the desert are in reality an important part of their supposedly monotheistic religion.
When are the intelligent, intellectually curious Muslims going to rise up and start to question this gibberish?